The Old (very old ) embraces the New
16 Aug, 2017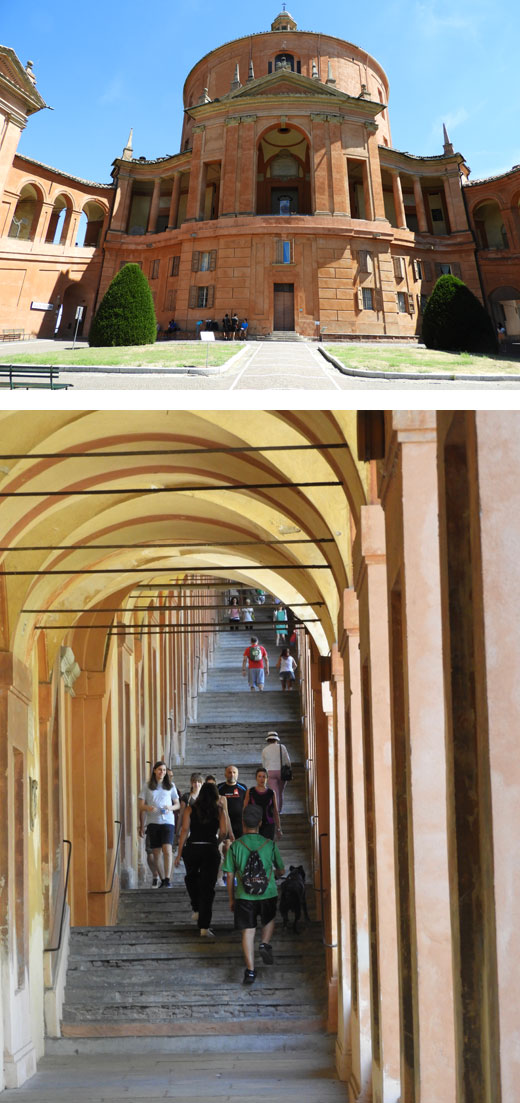 Further to the last article this is the second instance where I thought it was of note and you also get some history.
The city of Bologna in Northern Italy has 38 km of porticoes - covered walkways.
Of particular note is the 4km stretch ascending a hill at the top of which is The Sanctuary of the Madonna of San Luca, a basilica church lying some 300 metres above the city.
You can drive up to it but the monumental roofed arcade (Portico di San Luca) consisting of 666 arches, which was built in 1674-1793 is a site to behold and an experience to walk with views over the city to distract you from your aching calves.
You'll be ready for the loo at the top.
Along this route on a daily basis climb tourists, locals, lots of joggers (it's the steps ) and every third Sunday of the month, at 07:00, The Domenichini find themselves at the Arch of the Meloncello at the bottom of the hill to go up together on pilgrimage to the Shrine where, at 08:00 Mass is served.
The portico was originally meant to protect the icon of the virgin as it was paraded up the hill.
There is also an annual procession from the Cathedral of San Pietro (around 8km ) in the centre of Bologna to the Sanctuary that goes along this path.
So that is the history lesson, but catering for all these visitors in a building that has been there since 1723 references the photo's sent to us.
As you can see in the next photograph there are some highly visible blue structures that probably to be fair will not last as long as the host building has so far.